See more and catch more with the new HDS PRO fishfinder/chartplotter. Watch fish react to your lure live with new, high-resolution ActiveTarget® 2 Live Sonar, and find fish and holding structure with new, ultra high-definition Active Imaging™ HD. Quickly find fishing areas with the latest and most detailed C-MAP® charts and get full fishing system networking with expanded boat control from bow to stern.
NEW
ACTIVE IMAGING™ HD
Our clearest sonar ever, Active Imaging™ HD delivers high-definition views of Lowrance CHIRP sonar, SideScan and DownScan Imaging™.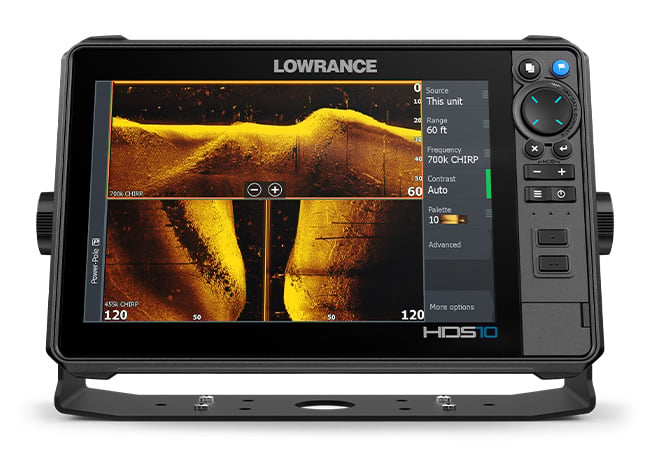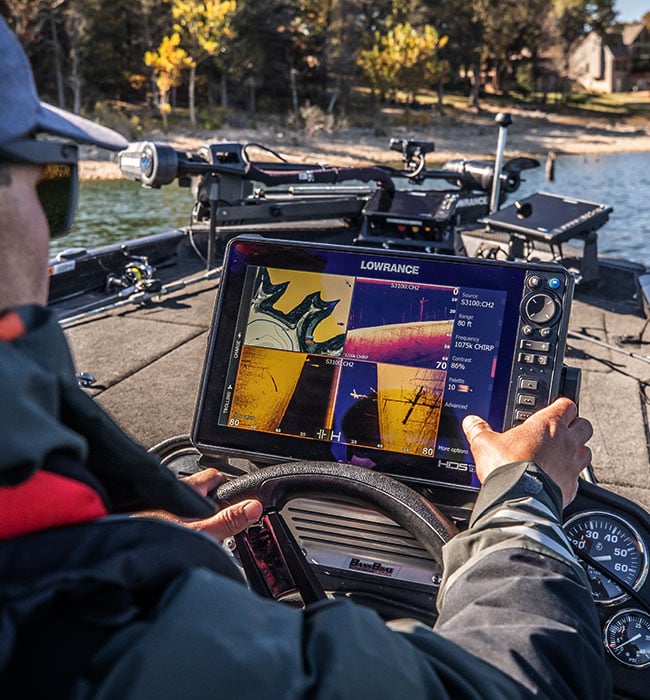 FISHREVEAL™
FishReveal™ has also been expanded to be available on SideScan* and DownScan, making fish easier to identify to the sides and beneath the boat.
*SideScan with FishReveal™ requires S3100 module and compatible transducer
NEW
ACTIVETARGET® 2 LIVE SONAR
ActiveTarget® 2 Live Sonar provides higher-resolution views of fish movement and structure.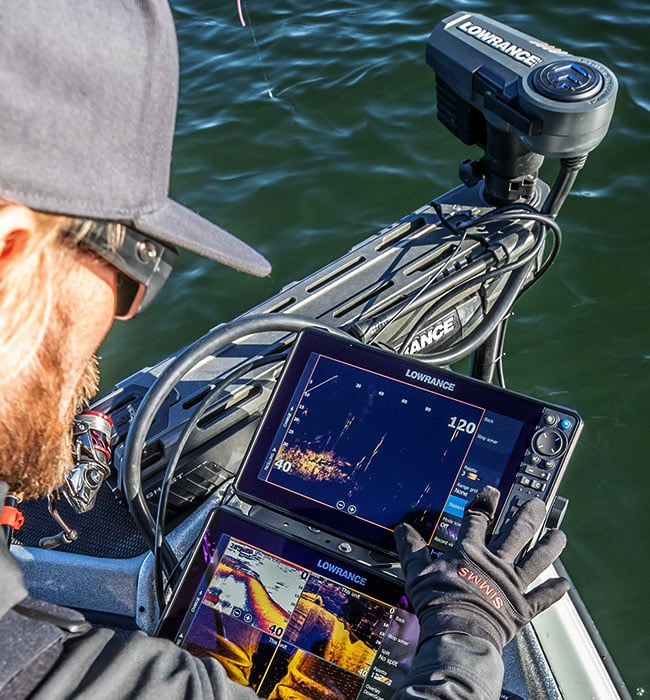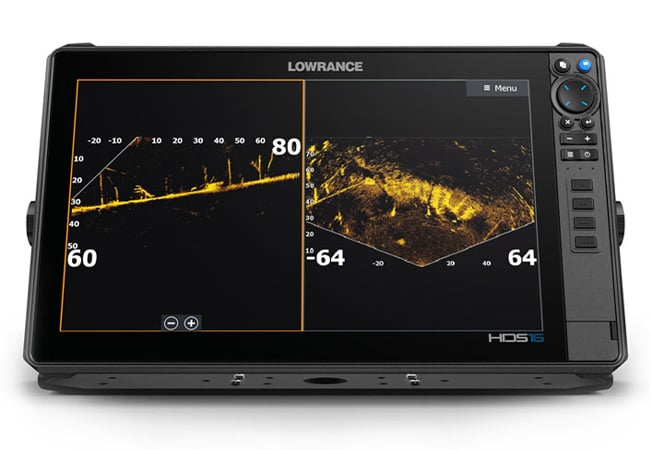 ADDITIONAL LIVE SONAR VIEWS
HDS® PRO also supports plug-and-play installation of two ActiveTarget® systems, making it possible to watch multiple views simultaneously, and to widen Front and Scout modes for better bait tracking.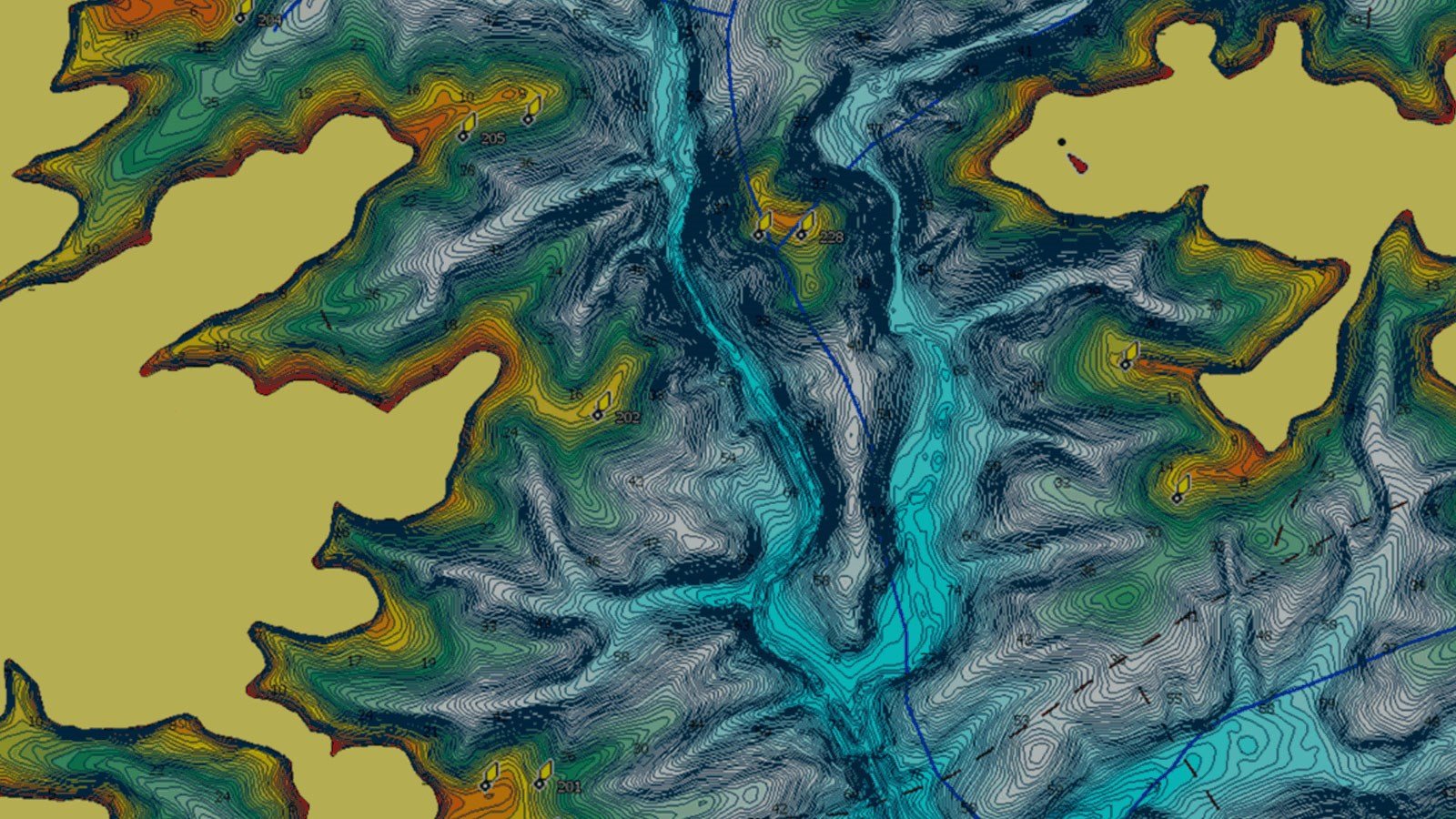 ALL THE CHART DETAILS – PRELOADED
Get full-featured vector charts, custom depth shading, high-res coastal coverage and 1-foot contours on more than 19,000 lakes across the U.S. and more than 9,400 in Canada.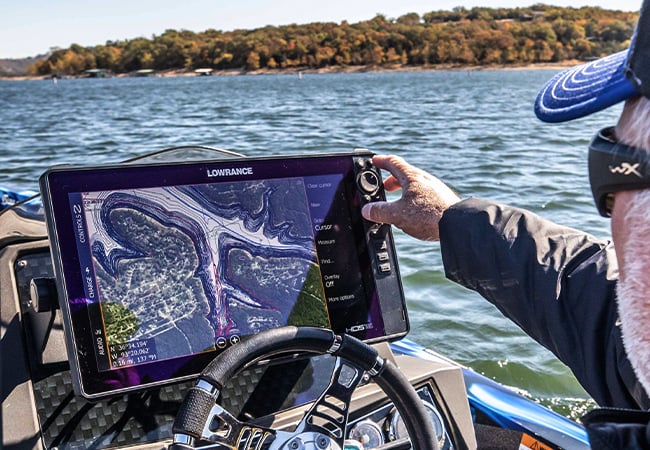 THIRD-PARTY COMPATIBILITY
For anglers that want to select their own chart, HDS® PRO supports a wide range of third-party chart options, including C-MAP®, Navionics®, Florida Marine Tracks and more.
NEW CHART OVERLAY
HDS® PRO also introduces a new chart overlay option, allowing you to view ActiveTarget® Scout Mode or Ghost® 360 trolling motor mode directly on the chart screen.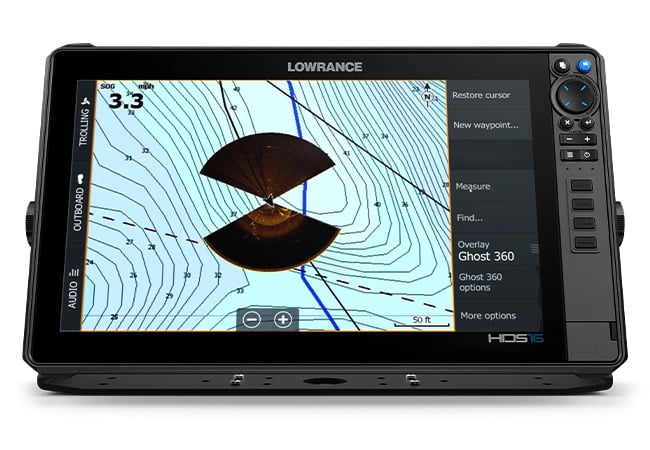 ULTIMATE CLARITY
The better your view, the better your fishing.
From the high-definition touchscreen display to the high-level clarity of the newly-enhanced Lowrance sonar, HDS® PRO delivers a full range of meaningful underwater views that will take your fishing experience from good to great.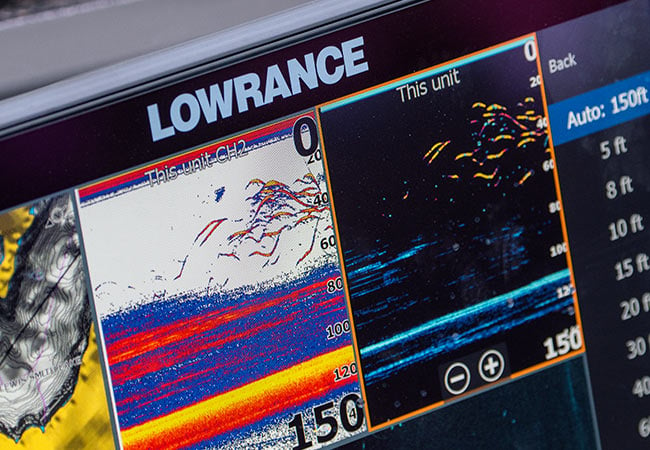 SOLARMAX™ HD
The SolarMAX™ HD touchscreen provides stunning images of fish, structure and chart details that are easy to see from any angle, in direct sunlight and through polarized lenses – a real difference maker on the water.
COMPLETE BOW-TO-STERN BOAT CONTROL
HDS® PRO gives you full bow-to-stern networking and expanded control of the Ultimate Fishing System.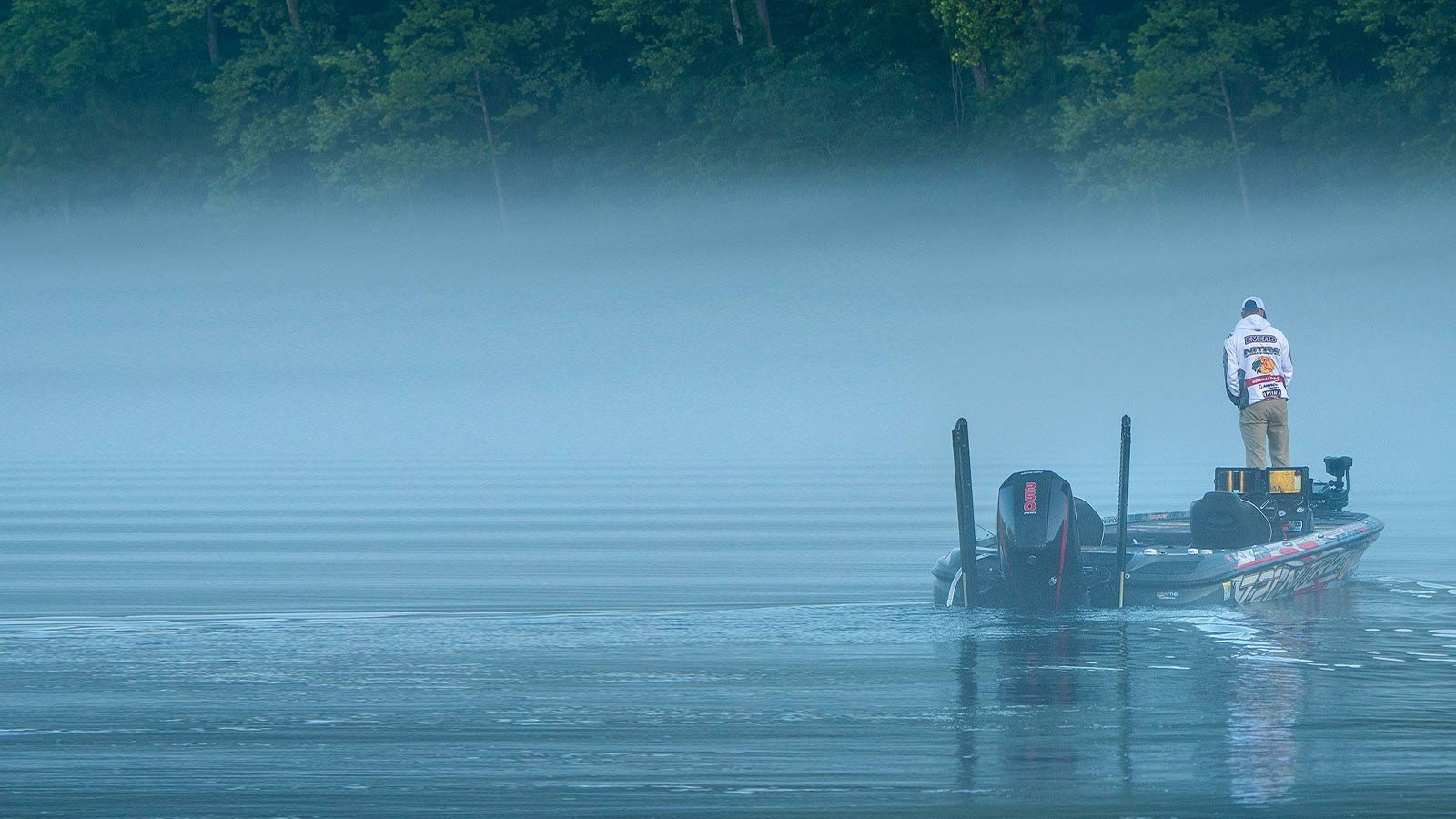 THE ULTIMATE FISHING SYSTEM
With HDS® PRO at the heart of your fishing system, it's easy to customize your boat to fit the way you fish with your choice of fish-finding, navigation, network and entertainment options.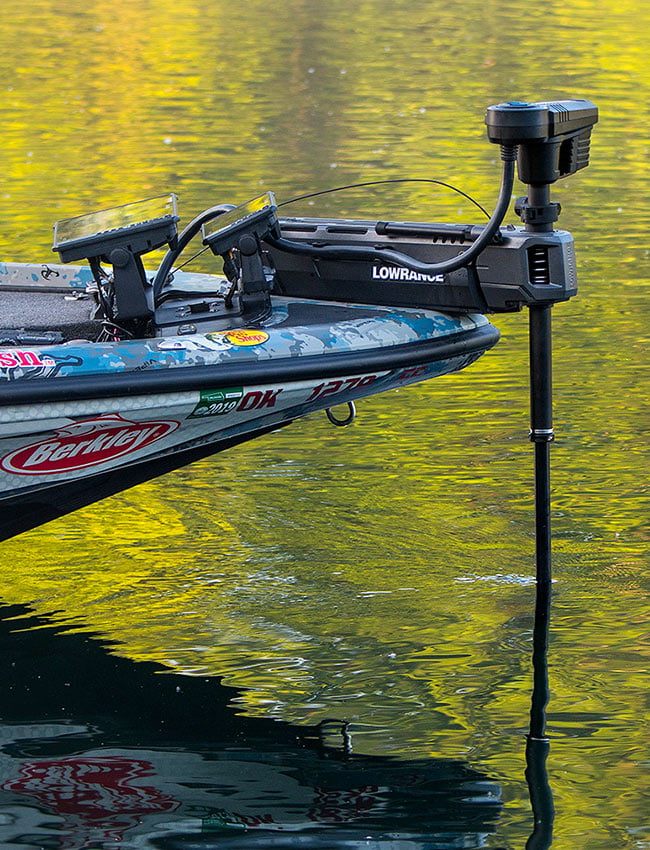 CONNECTIVITY
Expand your system — taking advantage of radar, autopilot and NMEA 2000® compatibility — and add SiriusXM® Weather/Audio to monitor changing weather conditions and to listen to your favorite tunes.
BUILT-IN SUPPORT
HDS® PRO offers support for the complete range of top fish-finding technologies – from ActiveTarget® 2 Live Sonar and Active Imaging™ HD to touchscreen control of Ghost® Trolling Motor, Power-Pole® Anchors and more.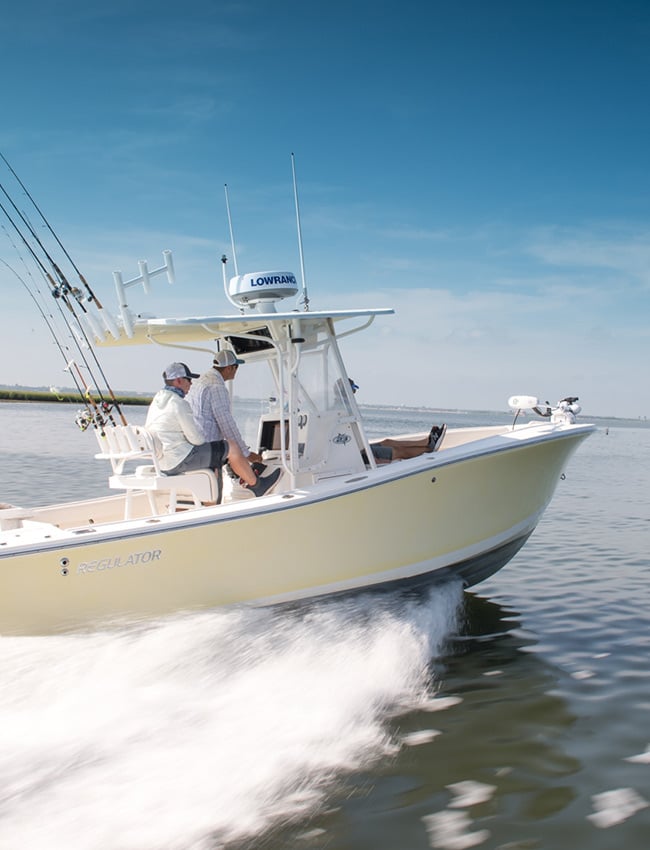 MORE OPTIONS
The expanded options and capabilities of HDS® PRO give you more ways to customize your boat to better fit your fishing needs.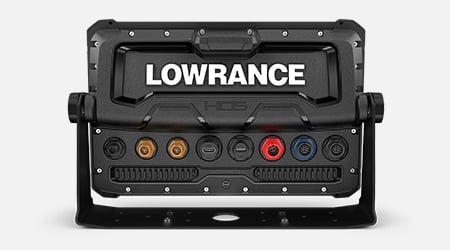 Plug-and-play
Beyond the 9, 10, 12 and 16-inch screen sizes, HDS® PRO can also be expanded to deliver additional views and features. With plug-and-play installation, expanding your fishing has never been easier.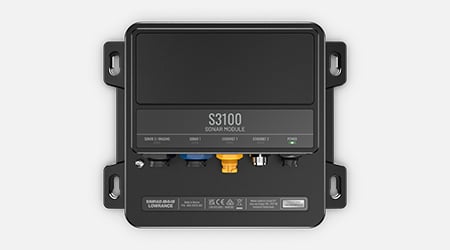 FishReveal™ SideScan
Simply add an S3100 sonar module and compatible Active Imaging™ HD transducer to enable the new FishReveal™ SideScan view, making it easier to identify fish to the sides of the boat.
Multiple live sonar views
Anglers can also add a second ActiveTarget® system to better target fish by viewing multiple ActiveTarget® 2 Live Sonar displays at the same time.
Key Features
SolarMAX™ HD Touchscreen viewable at extreme angles and through polarized lenses
New! High-definition up to 1.2MHz Active Imaging™ HD ready (Lowrance CHIRP/SideScan/DownScan Imaging™)
New! High-resolution ActiveTarget® 2 Live Sonar ready
FishReveal™ with new SideScan view, as well as Downscan*
Available in 9, 10, 12 and 16-inch display size
Preloaded C-MAP® DISCOVER OnBoard charts with 1-foot contours on 19,000+ US Lakes, 9,400+ Canadian Lakes or worldwide basemap
Real-time mapping available with C-MAP® Genesis Live.
Support for new ActiveTarget® Scout and Ghost® Trolling Motor 360 chart overlay views
Large programmable keys for 10, 12 and 16-inch sizes
Touchscreen control of Power-Pole® anchors, Ghost® Trolling Motor, Autopilot and Lowrance Outboard Pilot
NMEA 2000®, Wireless and Bluetooth®, connectivity – plus smartphone notifications
Wide range of optional chart upgrades including C-MAP® REVEAL, Navionics®, Florida Marine Tracks and more.
*SidescanFishReveal requires S3100 module and a compatible transducer